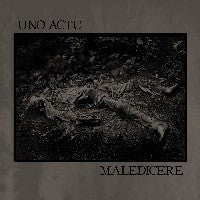 The Bindrune Webshop
Uno Actu (Can)/Maledicere (US) - Split 7"
"This release marks an alliance between two underground acts that refuse to define themselves against their peers or compromise the real aesthetic and feeling of underground art. Maledicere creates a Satanic pulse of harsh dissonance, delivering unearthly tones, and cold reverberations, that purify themselves against the damp basement walls in which they were recorded. Uno Actu creates soundscapes most suitable for a tortured and wondrous isolation, evoking a unique ambiance of chilling, contemplative, overtones; a complex, yet nihilistic trance."
---
More from this collection