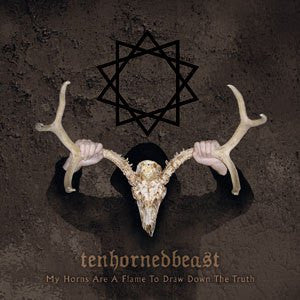 Cold Spring Records
Tenhornedbeast (UK) - My Horns are a Flame to Draw Down... CD
Sale price
$ 5.00
Regular price
$ 11.00
The TenHornedBeast rises again.
In the summer of 2007 Cold Spring Records released The Sacred Truth, the first CD by TenHornedBeast. A dark and menacing soundscape of funereal ambience and soaring, burning feedback.
My Horns Are A Flame To Draw Down The Truth? sees five new compositions from black ambient / doom overlord Christopher Walton, taken from the same sessions that gave forth ?The Sacred Truth?.
My Horns Are A Flame To Draw Down The Truth consists of three remixes / expansions / contractions of pieces from the debut album "The Sacred Truth" and two totally new compositions in a similar style to this dark masterpiece.
Walton has stripped the songs to their bare bones and allowed them space to breathe again. This album is all-new but continues the atmosphere of the debut and can be considered a companion piece. Presented in a matt-laminate, spot-varnished digipak.
---
More from this collection