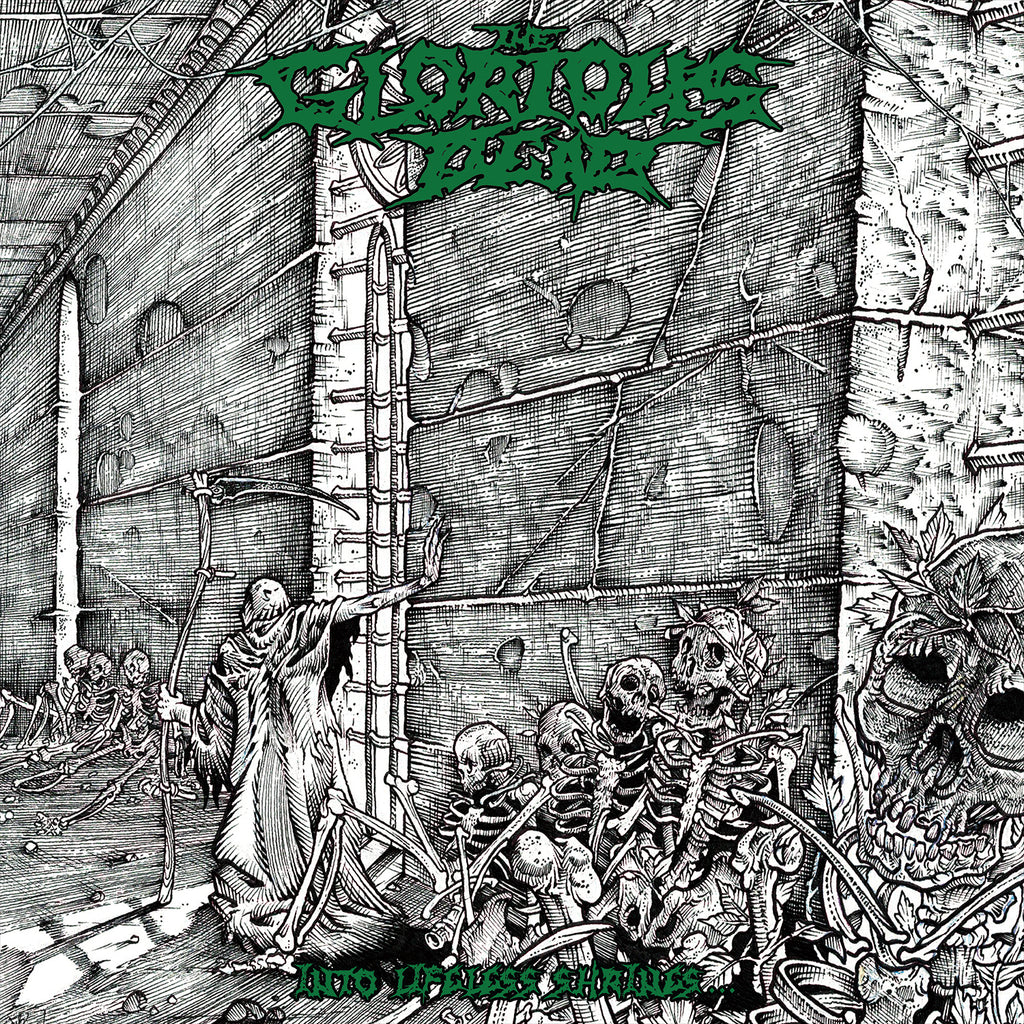 Bindrune Recordings
The Glorious Dead - Into Lifeless Shrines LP/CD
Release date 9/4/2020

Release Info:
-Comes with a CD and Download Card
-Grey and white merge with black and green splatter vinyl
-2 sided insert
-Heavy jacket
-Standard weight vinyl
The rise of Filthy Northern Death Metal

Founded by TJ Humlinski (Feast Eternal) and Marty Rytkonen (Prosthesis, Slaunchwise, Charnel Valley, Bindrune Recordings), The Glorious Dead is a band that finds roots planted back in 2008-9, with the 3-song demo, The Burdensome Ceremony of Internment, arising from this inception. Upon suffering line-up changes, the band went dormant until 2017, when Chris Fulton/Drums (Reasonable Deception/Neither) relocated to the area and agreed to join the band. With the addition of Jim Clifton on bass (Shockplate, Eihwaz Recordings), for the first time, TGD was completed by 4 people that all shared the same vision for creating riff dominant death metal in the old spirit.


With Chris Boris from the Northern Michigan band - and forest metal stalwarts - Pan, permanently joining the ranks on bass, the band finalized the 2 year quest and material for the album and focused on playing live, along the way opening for the Nile and Terrorizer tour that came through Michigan, among other shows. In 2019 the band entered 231 Studios in Traverse City, Michigan to work with Andy Vanguilder who captured the sound the band was looking for. With songs that range from blasting intensity, to a more down-trodden doom crawl, the music of The Glorious Dead is focused on memorable and diseased sounding riffs lurking at it's core. A stylistic diversity that finds worship in the 80's darkened thrash movement, co-exists with the cemented foundation of pure and ancient death metal. This diversity arises from a clear vision curated by all the members of the band who's influences span back to extreme metal's formative years.

We are proud to bring you what is Bindrune Recording's debut death metal release and we hope it appeals to the primordial nature of your extreme metal composition.


Hail the filthy Northern hordes!  
Check out 2 released tracks from the album here:
https://bindrunerecordings.bandcamp.com/album/into-lifeless-shrines
---
More from this collection